The FEAST and Eco-Schools teams are collaborating to empower and inspire Aussie kids to reduce food wastage and live a healthy and sustainable life while helping the planet! Many schools participate in our programs, but we want to share the amazing achievements of one particular school that showed outstanding passion and commitment to a Sustainable way of learning in school: Oxley Park Public School.
Oxley Park Public School was introduced to OzHarvest and their mission "nourishing our country" when an OzHarvest's Ambassador went to the school to present in 2019. The students learned about a sustainable way of learning in schools and food education, food waste, its harmful effects to the planet and food insecurity. There was a strong connection, so OzHarvest and Oxley Park PS kept in contact to ensure they could support each other in achieving the same goals: Inspiring students to become change-makers. Commenced in Term 1, 2020 and successfully completed at the end of Term 2, the FEAST program highly engaged 200 Stage 3 students. "It's important for us to educate our students to be lifelong, responsible, sustainable citizens of the world," thus Mrs Alba, Learning and Support Teacher.
Oxley Park Public School is also part of Eco-Schools, the largest international environmental education, framework and accreditation program, nationally run by Keep Australia Beautiful, which encourages students to take an active role in their school and community and become leaders of change. Following the Eco-Schools framework, which provides a great balance between guidance and flexibility, the student-led Environment Team developed an Action Plan that would allow Oxley Park to become more environmentally friendly. Amongst other projects, the plan included running the FEAST program to learn about food waste, healthy eating, and a sustainable way of learning.
Inspiring young environmentalists
The students performed independent research about food waste and watched videos about supply chains and how to implement a sustainable way of living and learning. They also planted and grew food, harvested their produce, and cooked with it for everyone to enjoy. This made the students understand what goes into producing food. Part of their Eco School action plan was to look after a farm and chickens, cleaning, collecting eggs, order food and hay for chickens. The whole journey from seed to plate was investigated, including meal planning, cooking, cleaning, and re-evaluating their recipes.
"The goals of both the Eco School Framework and the FEAST program are environmental awareness and sustainable living, which we follow from the UN Sustainability Goals, so the programs melded seamlessly together", said Mrs Alberto, Stage Three Teacher.
In addition to the UN Sustainability Goals, the school's Action Plan for 2020 includes many other projects and initiatives to teach students how to take care of our environment. They studied the importance of bees and applied successfully for the Eco-Schools Litter Legends Campaign grant to learn how to reduce and recycle paper in their school. Two students started a monthly paper-waste audit, while year 5 & 6 students collected paper waste to send to a recycling company. The school is also recycling plastic and has partnered with Red Frogs Plastic Return & Earn Recycling. All money raised will go towards more sustainable projects in the school.
Oxley Park Public School is also proud to have a school Garden Club, where students learn how to take care of their 65 garden beds, digging soil, preparing garden beds and harvest the delicious produce, including fruit from their own fruit orchards which is then supplied as Crunch and Sip. The FEAST program was the perfect add on to complement these initiatives with the school's successful garden project.
Because of the global reach of the Eco Schools Framework Oxley Park students are pen pals with a school in the United Kingdom and they regularly communicate with them to share tips about sustainable practices, the perfect learning opportunity to have fun and share experiences. According to Mrs Alba, Learning and Support Teacher, "Many more initiatives and projects are being carried out by our school. Oxley Park Public School's staff are active participants and ultimately, we aim to enrich student knowledge and skills in all areas of sustainable living".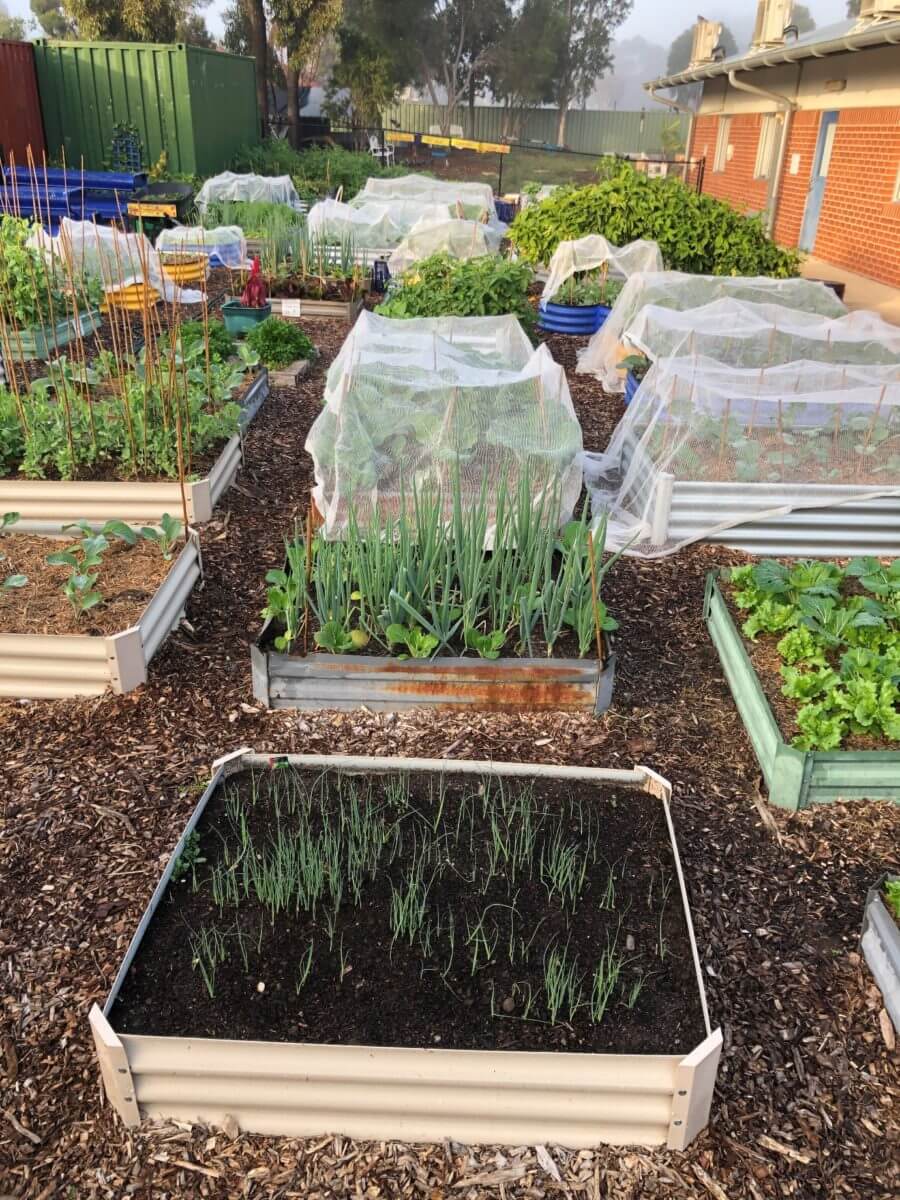 Involvement and ease of programs
"The FEAST program and the Eco Schools Action Plan make it easy for teachers to be involved. English, Science, Mathematics, PDHPE, Geography outcomes are embedded into all activities. By assigning classes against projects and environmental duties, all students have participated in authentic learning activities that can then be applied to their everyday lives. Teachers loved that the entire FEAST program was packaged and ready to go! The lessons were succinct, and curriculum aligned, the risk assessment was supplied and required cooking utensils and equipment included. The students enjoyed working in a hands-on capacity and really looked forward to their weekly cooking classes. They sat wide eyed through the food waste lessons and it was evident by the end of the program that the way they viewed food preparation, meal planning, cooking and eating had changed." said Mrs Alberto, Stage Three Teacher.
Students loved the programs and activities as well. "I like learning about new cooking skills and more teamwork; working together. We got to find out more about our classmates and their personalities in our outdoor café and working in the school's garden and farm" – Jazzmine student Oxley Park Public School.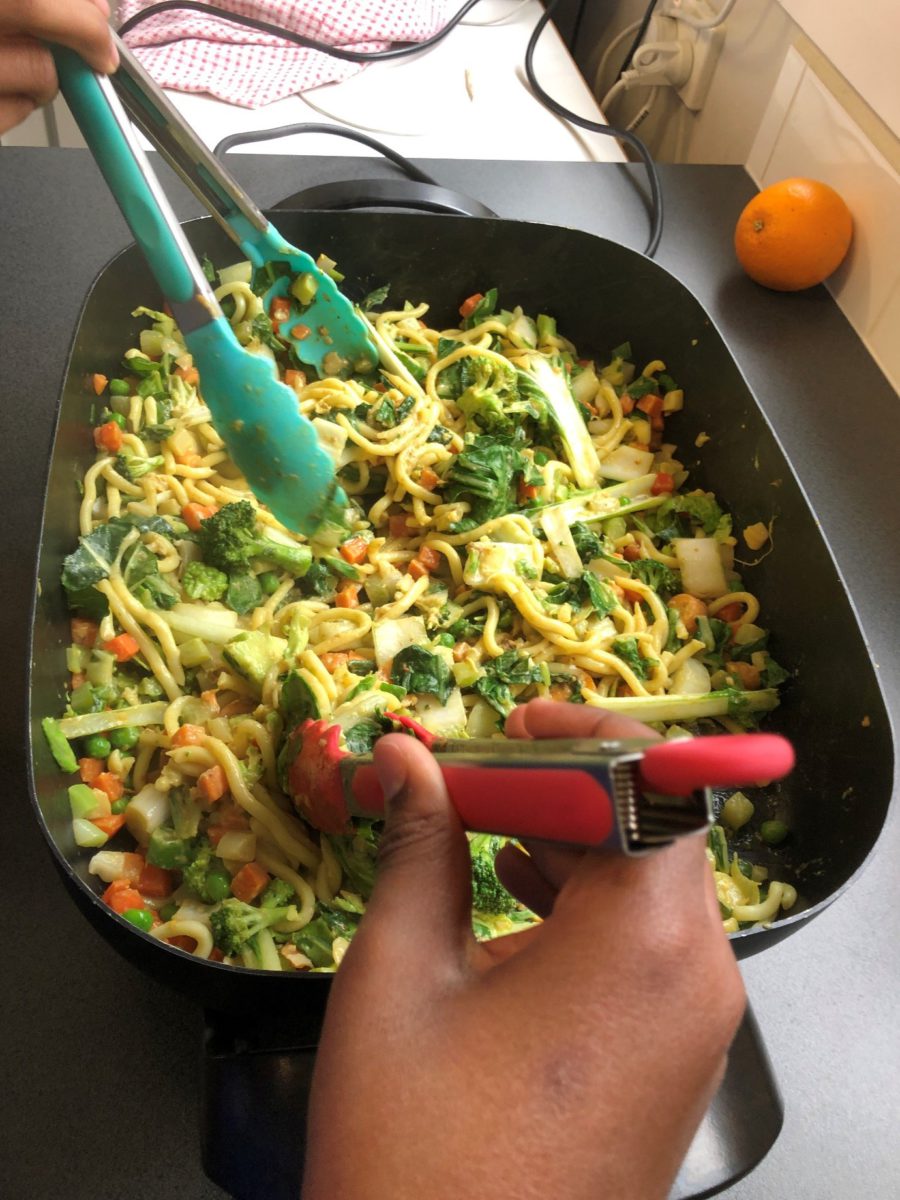 Key Takeaways and learnings
By completing the FEAST and the Eco Schools programs, Oxley Park Public School's students have learned a lot about a sustainable life and taking care of the environment. Thanks to their passionate educators they now know:
Food wastage is a million-dollar problem in Australia. It costs everyone.
How to minimise food wastage and live sustainably – everything from growing your own fruit and vegetables, reusing and recycling packaging, composting, cooking nutritious meals with leftovers, making use of everything in the fridge to stretch its lifespan.
"We adapted our recipes to include veggies ready to harvest".
How to build habitats for small native animals and insects.
The importance of sustainability practices for all animals on earth.
Not only have the programs created positive behavioural change of the students but also made an impact to their wider community.
"When you educate children, the positive change that ripples through the community is evident in the changes to everyday living practices at home."
Students showed high engagement and reported about the cooking activities to their friends and families. Parents became involved because students went home and improved their parent's practice, shared food waste facts and started cooking, composting and recycling with them.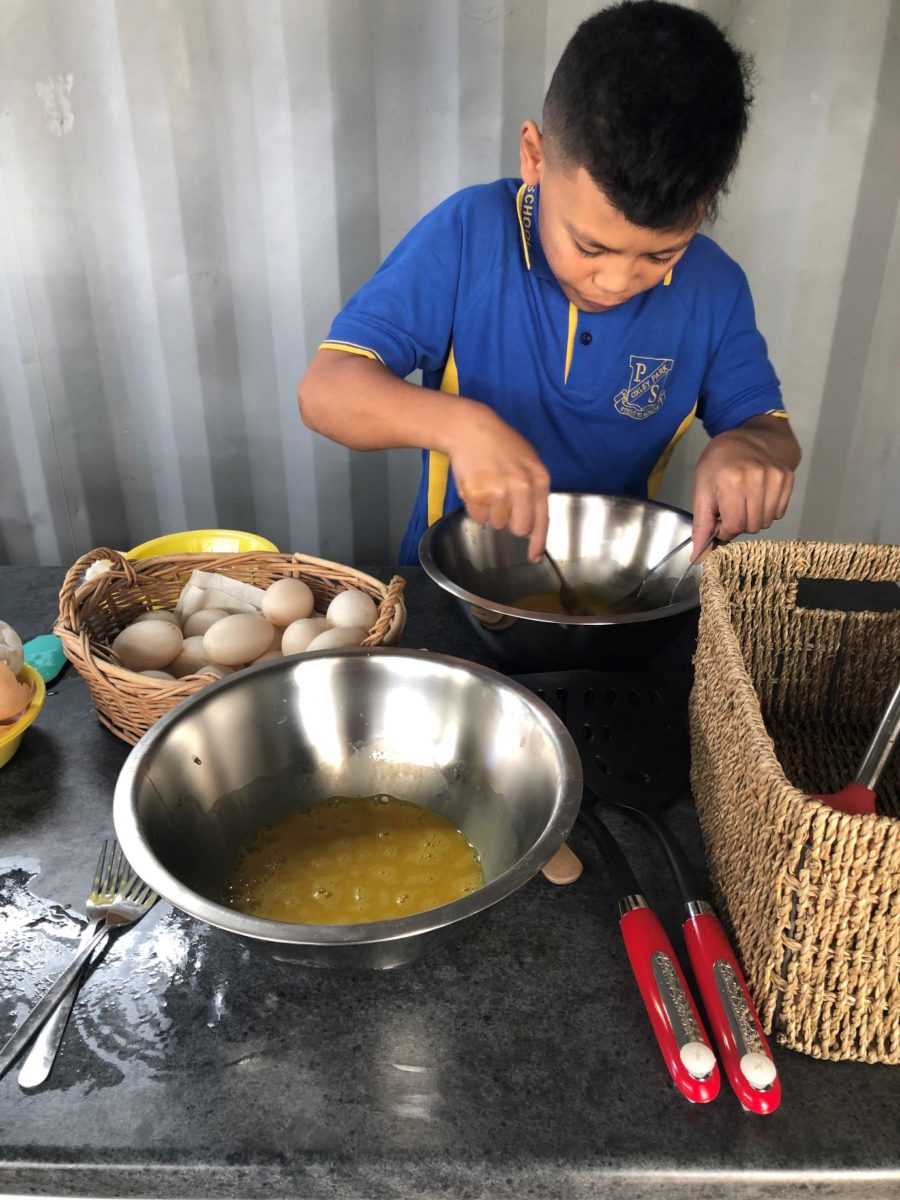 "It helped us to make new friends, got us out of the classroom and look forward to it each week. We learnt about healthy ingredients and how to prepare a meal for ourselves." – Darius – Student Oxley Park Public School.
Mrs Alba, Learning and Support Teacher concludes; "We would highly recommend the OzHarvest FEAST project and the Eco Schools program. A great combination of enriching and fulfilling that can be the start of many positive ripples within a community."
To implement a sustainable way of learning in your school as well, jump onboard on our journey to inspire future change-makers. Check out Eco-Schools Australia and OzHarvest FEAST to register your school.
We hope to see your school onboard soon.