Zuzana Droppa loved the idea of FEAST as soon as she heard about it. In 2018 she became an OzHarvest volunteer so she could help bring the new primary school program (Food Education And Sustainability Training) to primary schools. She wanted to implement feast in her community!
As Schools and Community Ambassador, Zuzana delivered presentations and encouraged schools to participate. In 2019 she became a FEAST Volunteer Ambassador, helping teachers and students in the classroom by implementing FEAST in the community.
Zuzana…
I believe educating children about food waste and healthy eating choices and giving them the skills to cook is incredibly important.
It's essential for the future of our planet. Children can promote change in habits quicker than adults and can influence those around them. I have seen firsthand children being major change-drivers at home as parents love to listen to them and support their ideas. That is why I wanted to support implement FEAST in the community.
Growing up in Czechoslovakia
I grew up in communist Czechoslovakia and we did not waste anything. We never went hungry, but we did not have much food so we always used anything that was edible and, of course, all leftovers were stored for later.
The variety was very limited, and the availability of fresh produce was seasonal. We didn't have out of season produce; no fresh cucumbers in winter, you bought a jar of pickled ones. We learnt how food was grown and where it came from, and we knew exactly what each season would bring. There was a deep connection between us and the food.
Coming to Australia I was shocked by the disposability of food and how easily it was bought and thrown away. I was surprised people were so dependent on "best before" dates.
As a feast ambassador…
You touch children's lives in small but significant ways: you can encourage the quiet student to give it a go and boost their self-confidence, you can praise a child and make their day, you can prompt a skilled child to teach a less skilled one. You can highlight their amazing attitudes … little comments coming from you, a stranger, can have an impact and touch their lives. Being around children as their guide is a privilege.
With the knowledge gained in FEAST classes:
Kids are empowered to help our Earth by their choices around the food they eat and the food they waste – or hopefully don't!
They gain the skills to be confident in the kitchen. Hopefully, it will steer them away from unhealthy food choices as they learn how to whip up easy, healthy snacks when they come home hungry after school.
I loved seeing children grow more confident, learning to cook a meal for themselves and their loved ones. Also, the parents were blown away by their new skills and were more comfortable with them helping in the kitchen or cooking for the family.
Seeing children eat foods they would never consider before was amazing. The kids absolutely loved eating what they prepared. We had many fun moments, lots of laughs. Ingredients can go all over the place sometimes.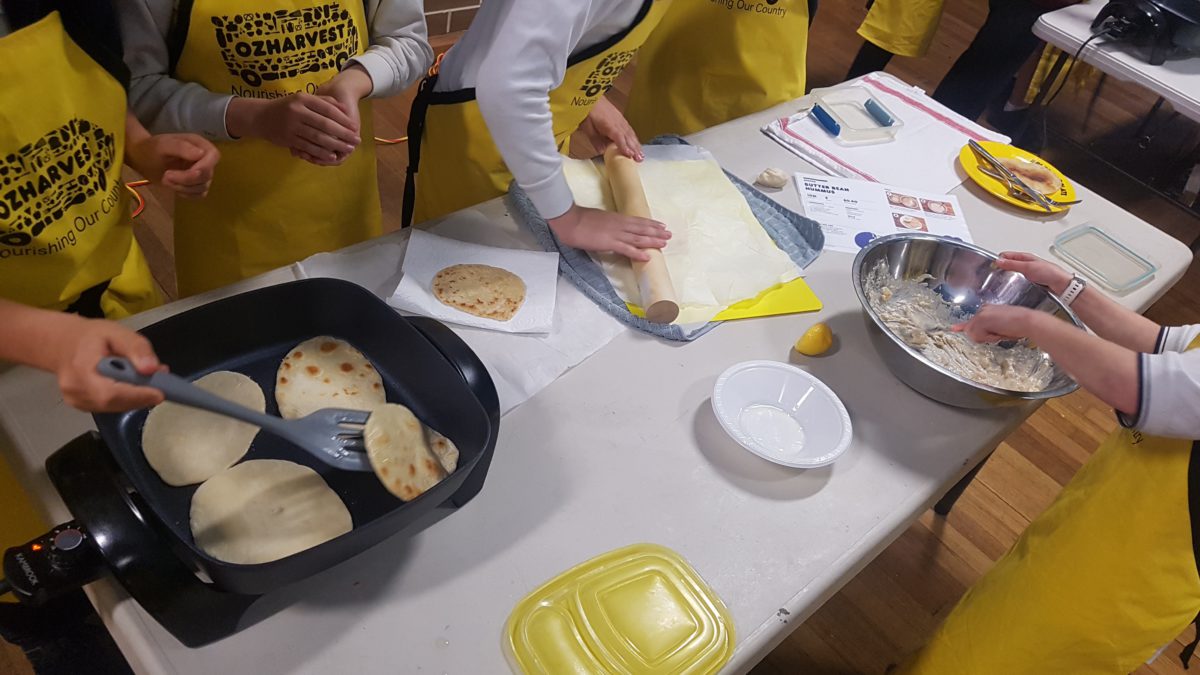 Bellevue Hill PS students cooking FEAST Tortilla wraps
…The role
The FEAST team will provide you with online FEAST volunteer training so you are comfortable and confident going into the school. You come shortly before class and help the teacher/s to set up. OzHarvest provides schools with kitchen kits to make cooking in every classroom accessible, the school purchases the food. Depending on the recipe, you set up cooking stations including equipment and ingredients as specified on the FEAST recipe cards. The teacher/s leads the sessions. Your role is to assist the children. Usually a few will help with the clean-up. They are keen as it might mean they miss a chunk of the next class!
Most schools have a launch for their School Cookbook and invite families along. It's a beautiful way to wrap up the program, so if you can, go and join the fun!
My experience
I assisted at Bellevue Hill Public School in Term 2 and 3, 2019 and Randwick Public School in Term 4, 2020. Bellevue Hill had two FEAST classes, each with 30 children. Randwick had two composite classes with about 60 children in each. Two very different experiences.
At Bellevue Hill I volunteered once a week every week for six weeks. I arrived at 9am and left around 12:30pm. This covered two cooking sessions and pack up. Not only did I get to know the students and teachers, but also the parents and grandparents who came to volunteer. They made me feel incredibly welcomed.
Randwick completed a kitchen garden program in 2018 so the children had already mastered basic chopping skills. They were able to dive deep with a hot recipe in their first session. Randwick couldn't have parent volunteers or a Cookbook launch due to Covid, but I had a great time anyway – I knew the school well as my daughter was a FEAST student there.
At Randwick I shared the Ambassador role with Nina Charbon from the FEAST team. I worked the same hours as Bellevue Hill but only half the weeks. Nina did the other half. Sharing the role is nice if you can't commit to the whole program. Two volunteers is best as it still creates a sense of belonging to the school and the children can get to know you.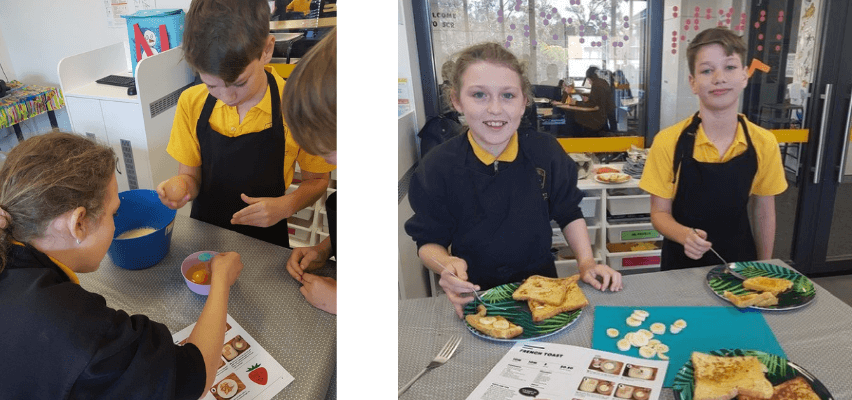 Randwick PS students cooking FEAST French Toast
Love in the classroom
A FEAST Ambassador's support is so valuable! Some teachers love to have you there to make sure children use kitchen equipment safely. They might want to discuss recipe choices. Other simply appreciate the extra pair of hands and help with clean-up.
The children love to meet FEAST Ambassadors and ask many curious questions. It's exciting for them! Many felt so empowered by being allowed to cook, especially chopping and cooking in electric frypans. And now more children are able to help in the kitchen at home – FEAST gives them wings to fly.
Do you want to be involved implementing FEAST in your community? Contact gro.t1701497772sevra1701497772hzo@r1701497772eetnu1701497772lov.t1701497772saef1701497772 and sign up as a FEAST Ambassador to help your local school during the cooking sessions and inspire future change-makers.