OzHarvest & Holy Family Primary School help provide food relief
Article appeared in Catholic Outlook (26th of May 2020) after OzHarvest FEAST delivered over 100 FEAST Family Food Relief hampers to Holy Family Primary school to provide food relief to families in the community.
Student helpers were all smiles when a very special truck pulled up at Holy Family Primary Emerton last week. There were lots of helping hands when it came time to unload over 100 food hampers to share with families in the local community.
Many thanks to OzHarvest, Australia's leading food rescue charity for these Family Food Relief Hampers and to the Jesuit Social Services 'Ignite Food Shop' onsite in Emerton, who also generously donated fresh fruit and vegetables to supplement supplies. This kindness will certainly ease the pressure on many families in the Mount Druitt area in these challenging times.
Holy Family Primary School Leader of Learning Ben Oxley said not only will the hampers go to families from this caring local school, they will also be shared with the Aboriginal Catholic Services Centre, Holy Family Preschool, Holy Family Parish and other local community groups that may need them.
With the leadership of Father Greg Jacobs SJ and some very helpful Year 6 students, each hamper was carefully unpacked from the truck. Staple ingredients like bread, non-perishable pantry items, eggs, fresh fruit and vegetables were distributed evenly into each hamper to make up enough food items to prepare about seven meals for a family of two adults and two children.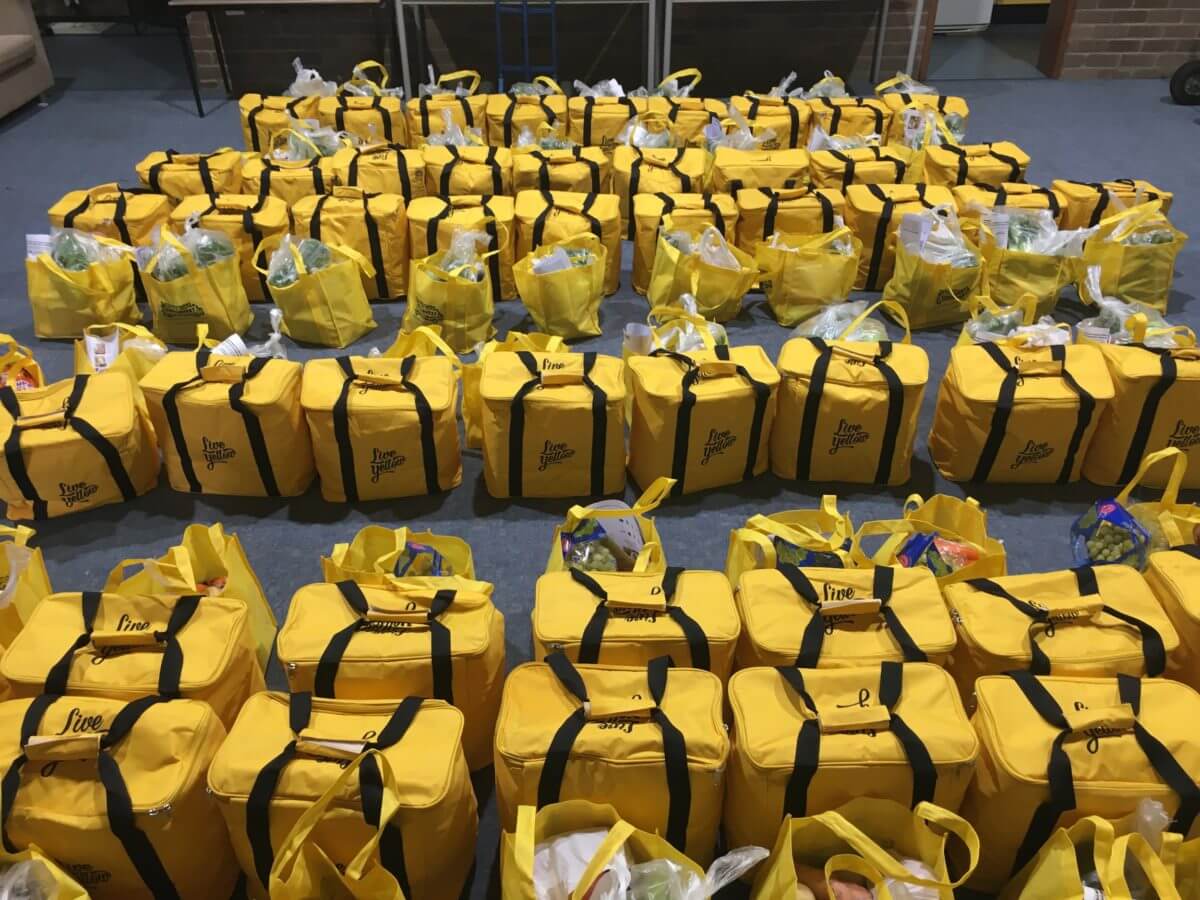 OzHarvest FEAST food hampers – packed and ready to be distributed to the local community.
Mr Oxley said the school received the hampers as a result of filling out an OzHarvest FEAST School Food Relief survey. "In fact our connection with OzHarvest stemmed from one of our teachers Alison Crombie visiting an Environment and Science expo last year and coming across the OzHarvest stall,'' Mr Oxley said.
"Ms Crombie managed to find out about this great learning program they have for Stage 3 students which teaches the students how to cook healthy well balanced meals (FEAST). Ms Crombie and fellow teacher Mr Adam Fletcher went out to OzHarvest's Alexandria headquarters earlier this year to be trained to run the classes and we were looking at starting the classes with the students in Term 2, before the COVID-19 pandemic came,'' Mr Oxley said.
As the school was unable to go ahead with the classes, OzHarvest invited them to take part in a survey. "I got a call from them to say they are able to meet all our requests and as a result every fortnight 100 food hampers will now be delivered to the school,'' Mr Oxley said.
Special thanks to Principal Mr John Spradbrow for his ongoing support of initiatives like this operating through the school. "Mr John Spradbrow is a pillar of strength for our community, we are lucky to have him. He is genuinely interested, and active, in providing whatever is needed for our community here," said Mr Oxley.
With thanks to Catholic Education Diocese of Parramatta and OzHarvest.